Divestment is MIT's only carbon-cutting instrument equal to the unequivocal and unparalleled urgency of climate change.
The Proportional Response
Divestment from fossil fuel companies is a proportional response to the unprecedented urgency of global climate change. Founded and run by concerned scientists and engineers at MIT, Fossil Free MIT reflects the overwhelming scientific consensus1,2 that global warming is a clear and present danger3.
2013′s landmark report1 by Working Group I of the Intergovernmental Panel on Climate Change (IPCC) – the authoritative international body on the science of climate change, backed by 193 governments – reinforces the need for swift and sizeable action if we are to limit average global warming to less than the 2 °C guardrail agreed to by nearly every country on Earth4.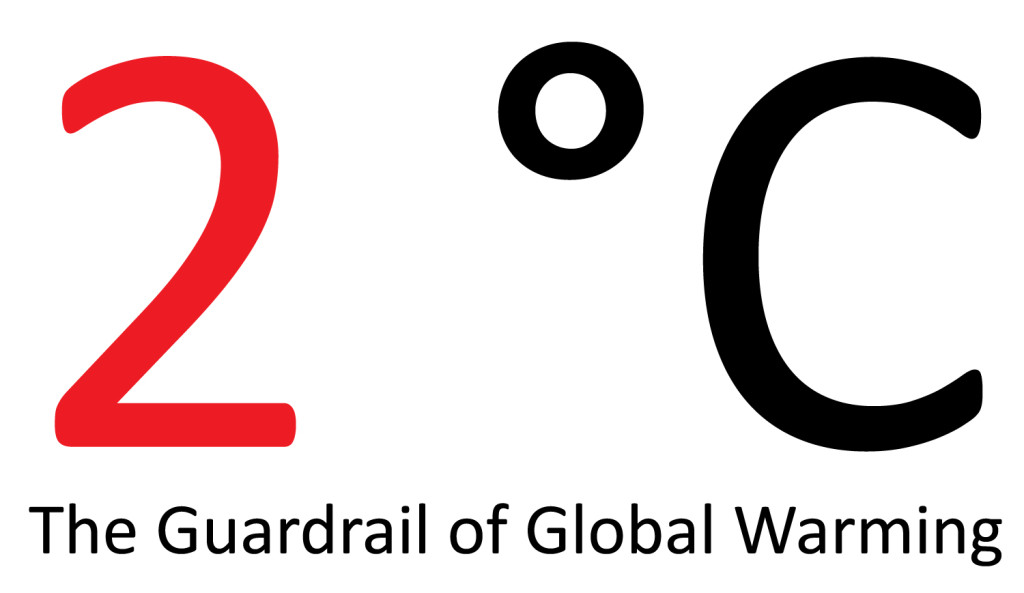 Getting Off The Curve
In particular, to stay below the 2 °C guardrail, mankind's annual carbon dioxide emissions have to come down, fast5. Yet ever since the Industrial Revolution our emissions have rocketed at a constant, unremitting exponential rate6, increasing by about 1.8% every year. The most advanced climate models in the world tell us that to avoid 2 °C, these carbon dioxide emissions must peak in the next decade or so and then fall at the same rate that they've been rising for two centuries7,8,5,9,10. Getting off the curve will require an energy revolution at least as profound as the one that got us on it11,12.
The reason that our carbon dioxide emissions must fall so rapidly is that once in the atmosphere, carbon dioxide sticks around for hundreds of years. It accumulates, and it's the cumulative carbon dioxide emissions since the Industrial Revolution that determine the level of warming13,14,15,16. This seemingly benign bit of science, internationally recognized by the world's climate scientists in the latest IPCC report1, has game-changing consequences.
To keep global warming below the 2 °C guardrail, the world needs to set itself an all-time budget on carbon dioxide emissions. We can afford to emit so much carbon dioxide, but after that, no more. Ever. To have at least a 66% chance of meeting the 2 °C target (which we hope you'll agree is the least you can ask for when you're talking about the future of our planet), the global budget on carbon dioxide emissions till 2100 is about 1000 billion tonnes (with an uncertainty of roughly 100 billion tonnes)17,15,1,16,5,18. The terrifying math of global warming is that at our current increasing rate of fossil fuel burning we will blow through this budget in about 20 years17 (see the graph below). And by that point we'll need to have transitioned to a completely carbon-free renewable energy infrastructure11 because all of the oil rigs, coal mines and gas wells will have to be shut down to stay within our budget. (Even the International Energy Agency's idealized scenario for scale-up of carbon capture and storage technology19 would only extend this budget by about 10%20, so even colossal breakthroughs are extremely unlikely to affect our need to get off the curve).
Unburnable Carbon
Well maybe we'll have run out of fossil fuels by then anyway? Unfortunately, no. Current fossil fuel reserves (those that we're at least 90% sure of) amount to16 at least 2860 Gt and we intend to burn it all. We have three times more fossil fuels than we can afford to burn17,21,22. Yet last year the top 200 fossil fuel companies spent $674 billion finding and developing more reserves20; that's $6.74 trillion over the next decade in wasted capital developing reserves that are unburnable.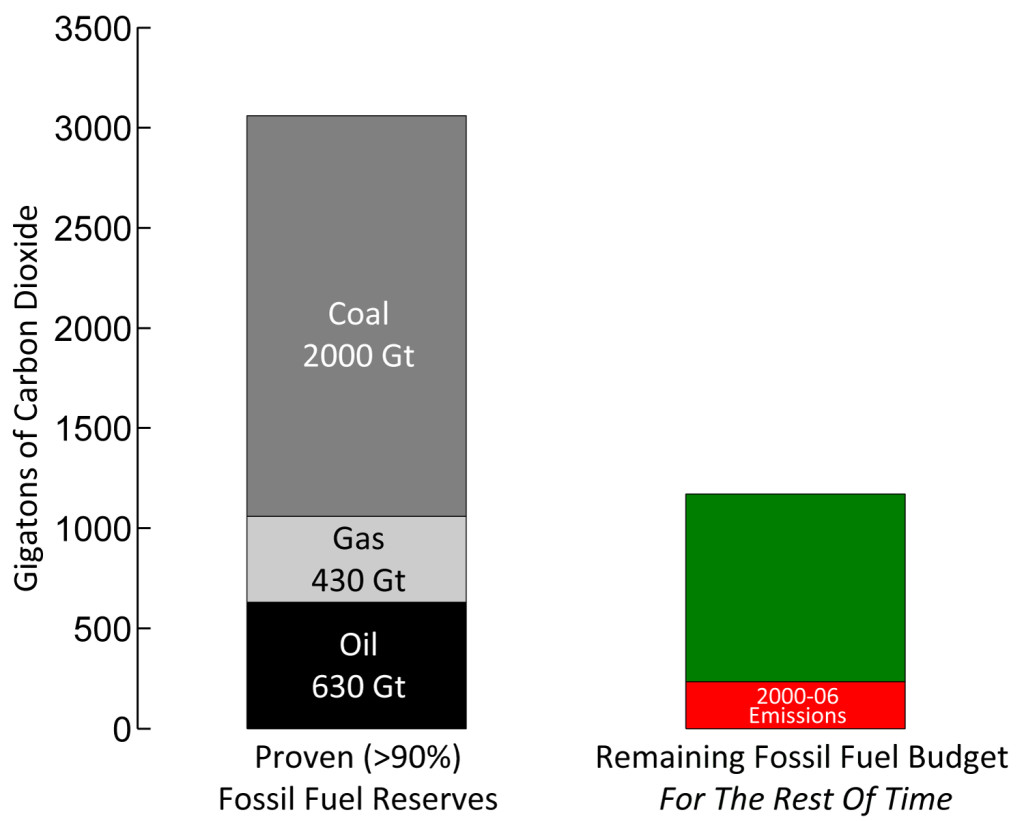 Learn more with Carbon Tracker's interactive talkie (made by kiln.it)…
We Need An Energy Revolution – And We Can Do It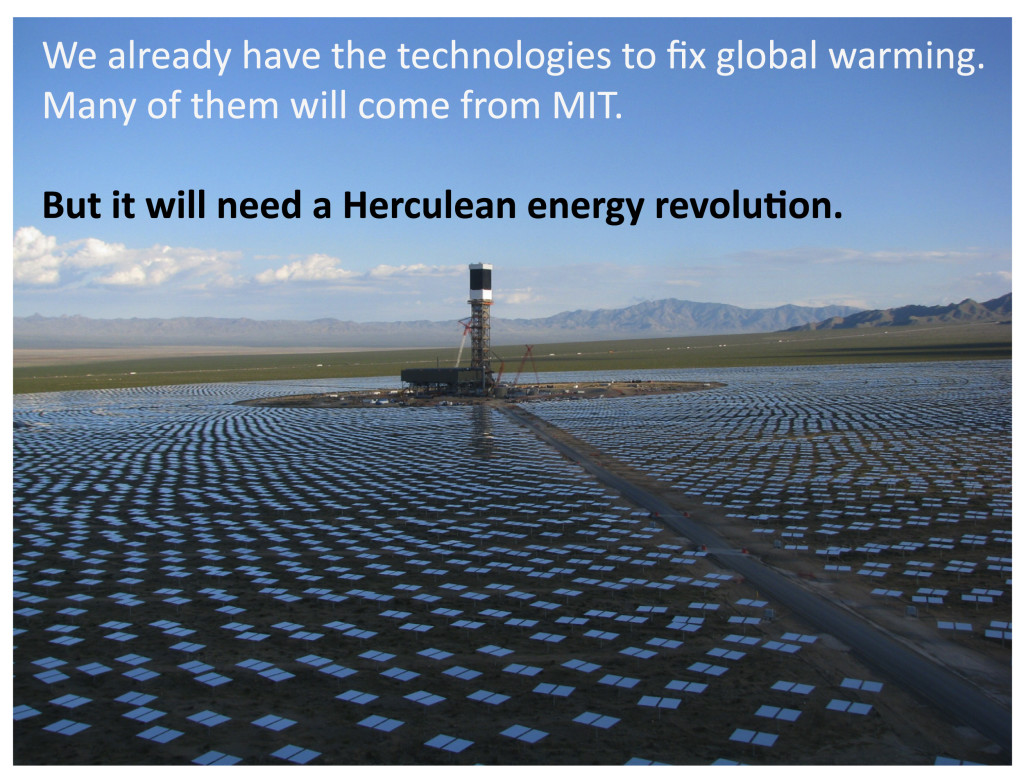 Despite all this doom and gloom, we do have what it takes to dig ourselves out of this hole. But our window of opportunity is almost closed23. As one influential climate science paper put it24:
"Humanity can solve the carbon and climate problem in the first half of this century simply by scaling up what we already know how to do."
This scale up will need a Herculean energy revolution12,25 no less monumental than World War II, the Moon race, the Manhattan Project or the Civil Rights movement. We will need solar and wind farms the size of states and countries. We will need ultra energy-efficient homes and vehicles powered by a state-of-the-art energy grid. We will need an end to fossil fuel subsidies and we will need a price on carbon26,27,28,29 to drive these transitions. The thing most people don't realize is that, at least for the next couple of decades30, we have most of the technologies needed to do this24. Many of them will come from MIT. What we're lacking is political will and a sense of generational mission.
Einstein said, "Those who have the privilege to know have the duty to act". At MIT we know plenty. It's time to act against climate change. Surely a good start is to stop investing in the fossil fuel industry?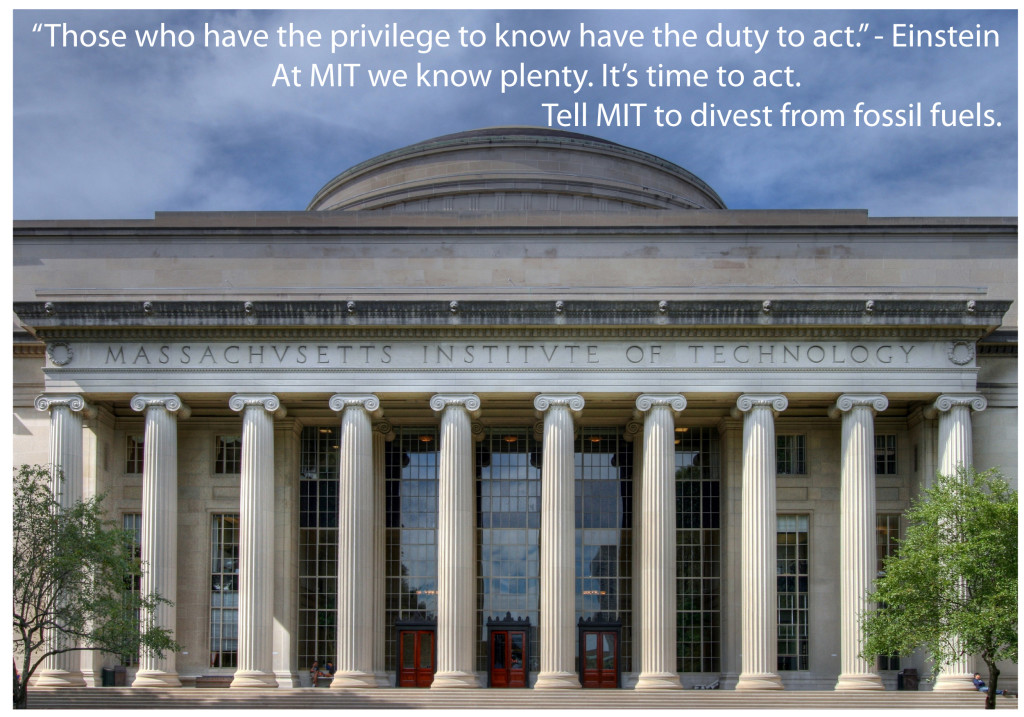 References