Divestment protects the long-term security of MIT's endowment from a looming $20 trillion 'carbon bubble' predicted by the London School of Economics, HSBC, and Standard & Poors, to name a few.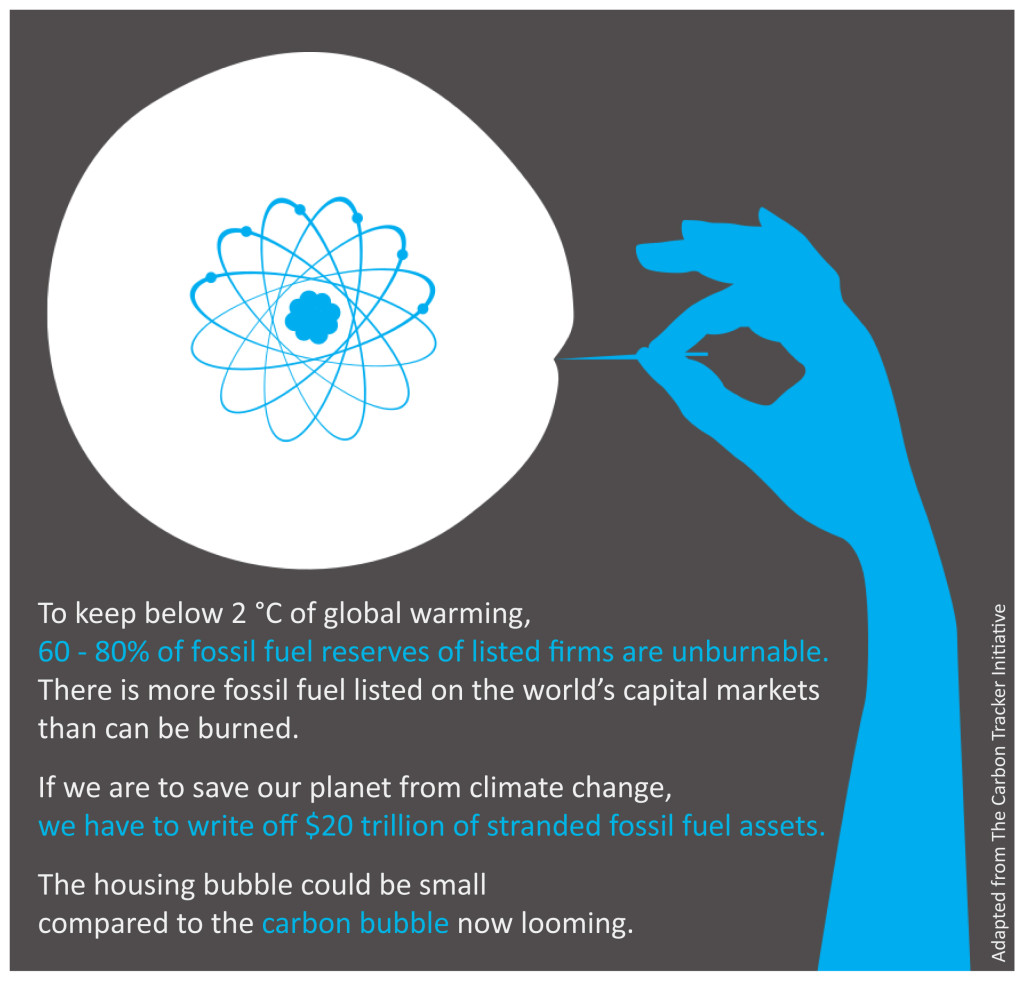 The greatest beneficiary of divestment from fossil fuel companies may be MIT itself. In the Science section of 'Why Divest?' we learned that fossil fuel companies' oil, coal and gas reserves far exceed the amount that we can afford to burn to keep below 2 °C of global warming. An influential report from the London School of Economics1, backed by HSBC, Standard & Poors, climate economist Lord Stern, and reaffirmed by many other financial giants2,3, concluded that if listed companies are allocated their pro-rata share of the remaining, burnable budget of fossil fuels, "…this leaves them with a major carbon budget deficit compared to their reserves." 65-80% of the fossil fuel reserves of listed firms are unburnable. There is more fossil fuel listed on the world's capital markets than can be burned. These fossil fuels – worth $20 trillion in total4 – are technically in the soil, but already economically aboveground. They are the fossil fuel companies' primary asset, the holding that gives the companies value. They are figured into share prices, companies are borrowing money against it, nations are basing their budgets on the presumed returns from their patrimony. Former Vice President Al Gore – who together with David Blood (former co-CEO and Managing Director of Goldman Sachs Asset Management) runs a highly successful $6.5 billion asset investment management firm5 based on long-term, sustainable strategies – explains2,3,6 these "absurd valuations" in the interview below7.
If we are to save our planet from climate change, we may have to write off $20 trillion of fossil fuel assets. Put differently, at least two-thirds of fossil fuel reserves will not be monetized if we are to stay below 2°C of warming – creating stranded carbon assets2. The housing bubble could be small compared to the carbon bubble now looming4.
HSBC warn that equity valuations could be reduced by 40 – 60%8. Investing in fossil fuel companies that rely solely or heavily on constantly replenishing reserves of fossil fuels is becoming a very risky decision. And MIT is taking that risk with your money – with MIT's $12.4 billion endowment9.
What does that mean for the long-term security of MIT's endowment? MIT's continued investment in fossil fuel companies reflects a myopic, short-term market assessment, and jeopardizes the Corporation's fiduciary duty to protect the endowment's longevity. Divestment from fossil fuels will protect the intergenerational stability of MIT's endowment, before the bubble bursts.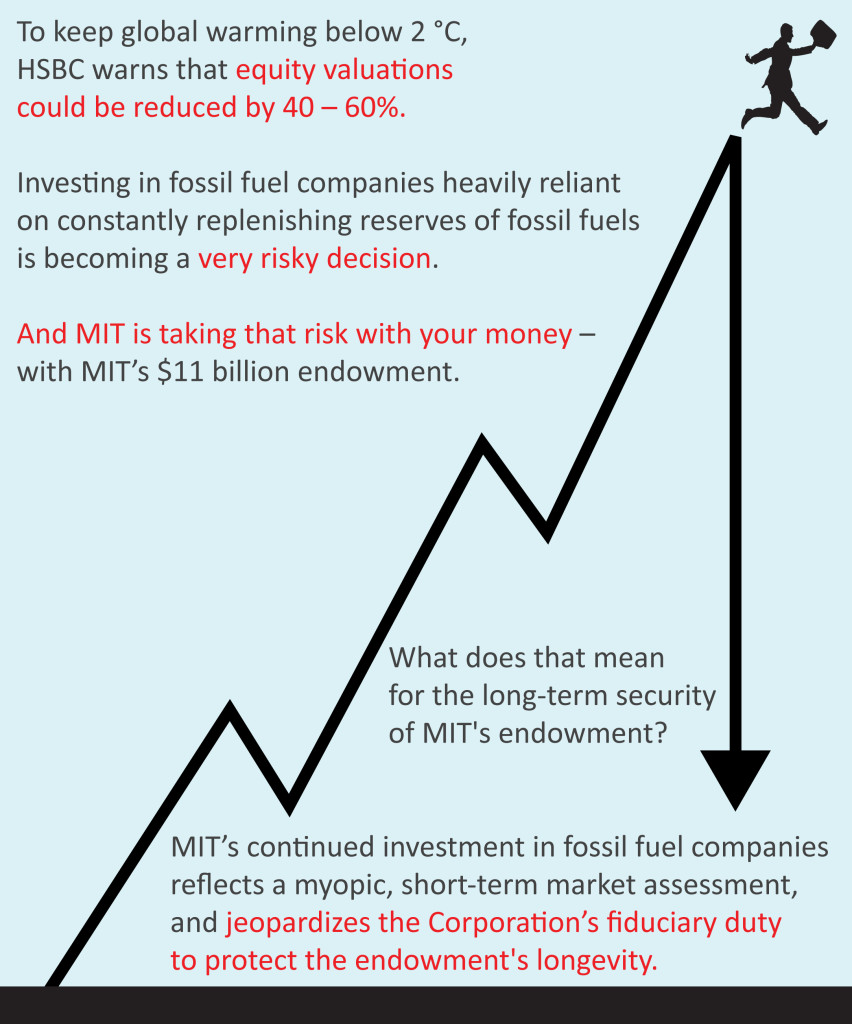 The direct financial impact of MIT's divestment on fossil fuel companies will - as it has been for previous divestment campaigns – be small. But that's not our goal. We don't have to bankrupt them in order to politically bankrupt them. A major study from the University of Oxford1, backed by Aviva Investors, HSBC, Standard & Poor's and others, put it this way:
"The outcome of the stigmatisation process, which the fossil fuel divestment campaign has now triggered, poses the most far-reaching threat to fossil fuel companies and the vast energy value chain."
Stigmatisation can also cause indirect financial damage, as the report goes on to conclude:
"…the fossil fuel divestment campaign will increase legislative uncertainty and potentially also lead to multiples' compression causing more permanent damage to the companies' enterprise values."
The Oxford study also predicts that, "The divestment campaign is likely to lead to a change in market norms. For example, negative screens or passive funds that exclude fossil fuel companies will quickly emerge." Just this summer, three weeks after President Obama called for an end to public financing of dirty coal plants abroad10, the World Bank announced that it will ban funding for new coal generation in all but a few rare circumstances11. Some major investors have also divested. The $74 billion Scandinavian asset manager, Storebrand, has pulled its funds from 19 "financially worthless" coal and oil sands businesses12,13, with an aim to "reduce Storebrand's exposure to fossil fuels and to secure long term, stable returns for our clients". Norway is now considering divesting its $840 billion sovereign wealth fund – the largest of its kind in the world, holding roughly 1.3% of global market capitalization – from fossil fuel companies14. And in the UK, the Parliamentary Environmental Audit Committee has warned the British Government and the Bank of England of the carbon bubble's serious threat to the UK economy15,16. 

References